Returning to Ho Chi Minh City, many people, especially pilgrims, find it difficult to miss the opportunity to visit and admire Buu Long Pagoda with its splendid architecture but equally sacred. Let's learn about the beautifully designed temple in the top 10 in the world with HAAN
Related news: Chau Doc 3 sacred pagoda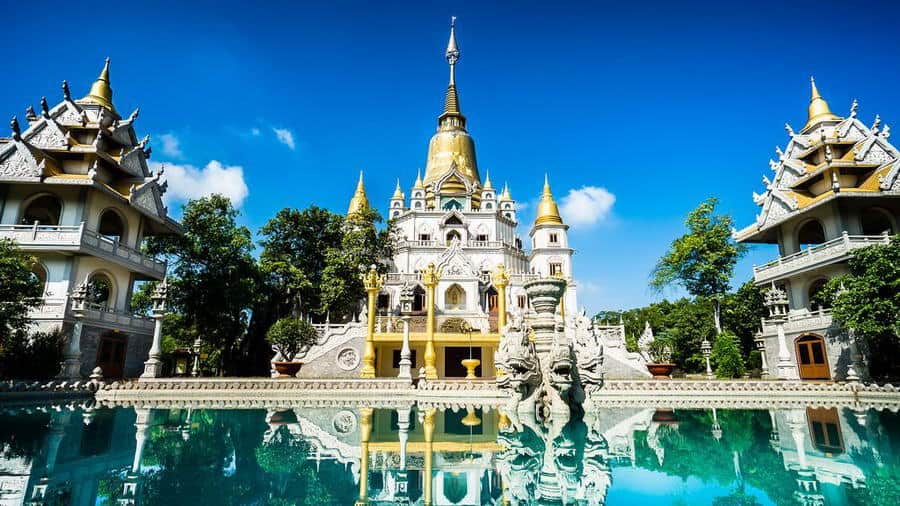 Unique architecture, splendid as a castle – Saigon tourist destination beautiful (photo collection)
Roads to Buu Long Pagoda
Option 1: From Thu Duc intersection
– Turn right onto Le Van Viet.
– Go about 4.5km to the end of Le Van Viet street and meet My Thanh T-junction (in front of the My Thanh gas station).
– Turn right onto Nguyen Van Tang street. Go about 2km, you will see a right turn with the name of the street Nguyen Xien, but don't turn here but continue going straight, this straight road is also Nguyen Xien. You continue to meet Nguyen Van Tang High School, go about 1km to see Buu Long Pagoda.
Option 2: Go from Thu Thiem tunnel
– Go straight on Mai Chi Tho Boulevard.
– Turn right onto Nguyen Thi Dinh street, run about 700 m turn left onto Nguyen Duy Trinh street
– Running all the way to Nguyen Duy Trinh will be Nguyen Xien, but in District 9 there are 2 sections named Nguyen Xien, so you just keep going straight to the end of this road and then turn right, run about 3km more. .
Option 3: From Suoi Tien area
From Thu Duc intersection, continue to go straight along Hanoi Highway to Tien stream, run about 2.5km to meet Hiep Phu 2 Gas Station at the new fork on the right side of Hanoi Highway. Then turn to the new road fork, go all this short road (1.5km), meet Nguyen Xien street cut in front, turn a little right across Dong Tron bridge, continue for more than 700m, you will see Buu Long pagoda on the right side of the road.
Not only a place of pilgrimage, Buu Long Pagoda also has many volunteer activities to contribute to society. The pagoda has a charity committee, a branch of the Red Cross and a Medical Clinic that provides free examination and medicine for everyone every Saturday. If you have time, remember to visit this special building.
Option 4: From HAAN Resort & Golf
From HAAN, you can follow Long Thuan road with two sides of green trees, turn along Nguyen Xien street to Buu Long Pagoda (no. 81 Nguyen Xien). The path is very easy without any difficulty even for first-time visitors. It only takes 15-20 minutes by car to get to Buu Long Pagoda with world famous architecture.
Buu Long Pagoda, District 9
Located on a hill west of Dong Nai River, Buu Long Pagoda is located at 81 Nguyen Xien, Long Binh Ward, District 9, far from the city center. About 20km from Ho Chi Minh City, the official name is To Dinh Buu Long Zen Monastery. Established in 1942, in 2007, Buu Long Pagoda was invested in construction and further restored, becoming a typical architectural work for the harmonious combination of Thai and Indian cultures and the quintessential house architecture. Nguyen.
(Study video)
The main hall and the grounds around the pagoda were built entirely according to the design of Abbot Thich Vien Minh. Gotama Cetiya Stupa, the main stupa of the temple, is the largest stupa in Vietnam with a height of 56m and four surrounding towers, built in the palace architecture with the main white color, mixed with brilliant yellow. at the top of the Thai temple architecture.